Air shows and flying days have become rare in Germany. There are too many regulations and fewer and fewer responsible organizers want to bear the associated risk. The air sports club LSC in Leverkusen has found a way to attract flight enthusiasts and to revive the special flair of the old flying days with its family festival. The gliding field, on the site of the former Bayer Sports Center at Kurtekotten, is located just outside Cologne and the Bergisches Land region. As soon as you take off from the runway for motorized aircraft, you can already make out the first suburbs of the Cologne metropolis. For Dieter Morsezeck it was no question to support the LSC with the Junkers Flugzeugwerke GmbH. He went even further and handed over one of the first delivered Junkers A50 (Junior) to the air sports club for training purposes on 25.08.23 on the occasion of a small celebration. Thus, the club now has the long-term opportunity to become an A50 base of Junkers Flugzeugwerke.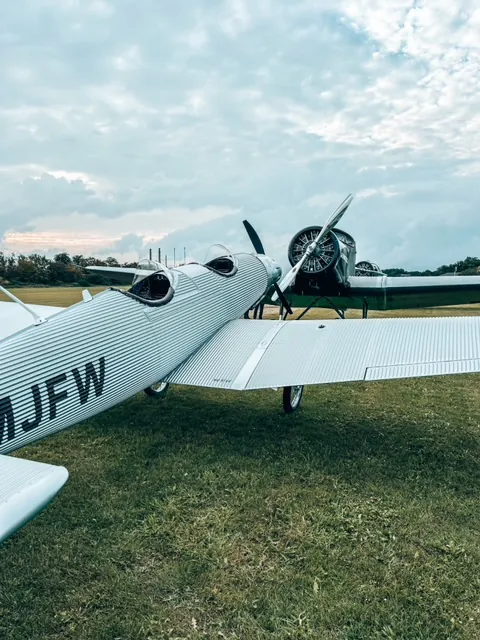 In addition to the Junkers A50 on display, two of the Junkers F13 replica aircraft could also be admired at the end of the Flight Line at the Junkers Flugzeugwerke tent. Thanks to the good weather, visitors were able to marvel at the two aircraft during a number of takeoffs and landings, as well as together with the Junkers Junior in a formation flyover. The flyby of Cologne Cathedral was the highlight for the Junkers F13 passengers. The spectacular experience was made possible by the support of air traffic control at Cologne-Bonn Airport and the fact that the route between Leverkusen and Cologne Cathedral takes only 15 minutes to fly there and back.
Junkers Flugzeugwerke will also be supporting LSC Leverkusen's Flugfest 2024 next year.
Here you can find some impressions of the flight festival: